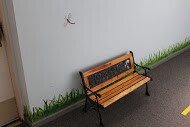 Our CBC Kidsville ministry exists to direct kids toward a personal relationship with Christ, biblical understanding, and lifelong discipleship.
CBC Kidsville is a safe and fun place for kids to grow in their faith. Our mission and vision statement are here. We would love to have you join in the fun of learning about God with us!
Classes for all ages
nursery - Birth to 2 years
We have a staffed nursery available during all church services and Sunday school. Our nursery includes a private alcove for nursing mothers and infants and a bathroom sized for toddlers.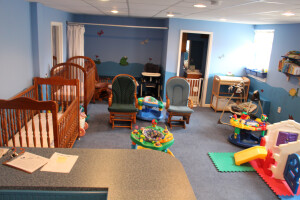 Preschoolers - ages 2 and 3 years
Our 2's&3's teachers love their young students and design their classes to introduce the little ones to Jesus and things in the Bible. A predictable weekly routine helps children know what to expect, and teachers work to include hands-on and visual aids with their Bible teaching.
"These guys catch on so easily to stories. It's not just a babysitting time." -- 2's & 3's teacher
The preschool classroom has lots of space for enjoyable Bible storytime, hands-on crafts and imaginative play. A self-contained bathroom sized for diaper changes and potty-training children is inside the classroom.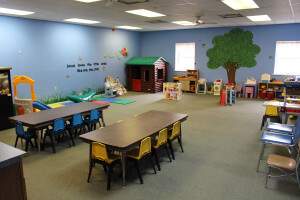 2's&3's classes include Sunday school and Sunday morning class during worship service. On Wednesday nights, AWANA Puggles and Cubbies are available (please see our CBC AWANA page for details!).
BEGINNERS - ages 4 through kindergarten
"I like when [my teacher] tells us the Jesus parts of stories, and we learn that Jesus can do everything." – 5-year-old Beginners student
Designed to gently teach older preschoolers and kindergarteners about God's love for them and His world, our Beginners classes are a Sunday morning block encompassing Sunday school and worship service hour. A familiar routine of craft projects, Bible story lessons, missionary prayer, social play with friends and song time with the 2's&3's make this a favorite part of many CBC kids' weeks. Wednesday programs for this age are AWANA Cubbies (ages 3 & 4 years) and Sparks (kindergarten-2nd grade). Please see our CBC AWANA page for details.
"I like the stories and the playtime. My favorite story is David and Goliath." – 6-year-old Beginners student.
primary - grades 1, 2, 3
sunday school
Our energetic Primary students love spending time together working on their Bible memory verses, talking about the lesson and listening to each week's Bible story.
"I like how [my teacher] answers questions and how she looks up stuff for people if she doesn't know the answer. If she doesn't know, she finds out and she tells them the answer the next week. Something I learned is how God is and how to praise Him and thank Him." – 7-year-old Primary student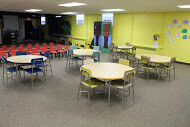 On the first Sunday of each month, Primary students gather for our Sonshine Ranch puppet ministry at 10:30 a.m. instead of coming to the main worship service. Sonshine Ranch (read more about it below) replaces primary church on those Sundays.
For Sunday night activities, Primary kids are welcome in either AWANA Sparks (kindergarten-2nd grade) or T&T (3rd-6th grade). Please see our CBC AWANA page for details.
juniors - grades 4, 5, 6
sunday school
Junior students are ready for thinking and discussing their Bible lessons more than they could in younger years, and our teachers enjoy helping them learn. It's not all academic, though - creative, hands-on activities that help the juniors dive right into the morning's lesson are often seen here.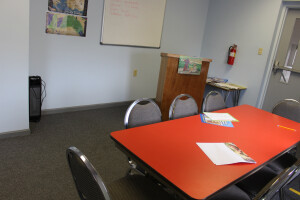 "I like how [my teachers] interact with us. They don't just tell us a story and leave it at that. They will go into depth and explain it. We learn a lot about people who were faithful to God, and about what Jesus did." – 10-year-old Junior student
After the Juniors Sunday school class, these kids join their families for the entire worship service. They do a great job participating in the worship and tuning in to each week's sermon.
"All the pastors that I've heard preach have simple, clear messages that are simple to understand. I also like singing songs." – 10-year-old Junior student
Juniors are welcome to join our AWANA T&T program on Sunday nights. Details are on the CBC AWANA page.
Special Activities and Programs
sonshine ranch puppet ministry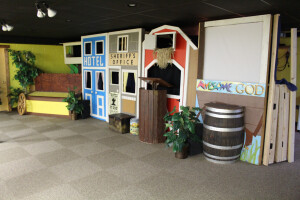 Cyruss, Turquoise and their ranch hand puppet friends welcome children ages 4 years through 3rd grade (Beginners and Primary) to Sonshine Ranch for a fun time of silly songs, stories, prizes, and more! Join us at the ranch on the first Sunday of each month at 10:30 a.m.
Primary students will be part of worship time at the ranch instead of with their families on these Sundays.
Safety
workers
All children's ministry teachers, helpers and nursery workers are required to pass a thorough background check. Nursery has a sign-in counter, and other classroom teachers release children directly to their parents or another relative.
snacks
CBC Kidsville's standard snack policy is that children receive water and either graham, animal or fish crackers at the beginning of the worship service hour (10:30-10:45 for Preschool & Beginners, about 11:15 a.m. for Primary). Some teachers choose to provide other special treats at certain times. Families may check with individual teachers for current information.