Senior Pastor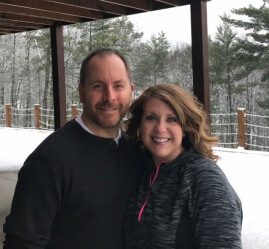 Jim Newcomer
BA, MA, DMin

Pastor Jim began his ministry at Calvary in October of 2016. Born in Detroit, he grew up in Warren and then Clarkston until he left for college in 1985. He and Lorie (from Lapeer) were married in 1989 and now have 3 adult children. He entered pastoral ministry in 1994 and has served as a youth pastor (6 years) and an executive pastor (11 years). He has also held two senior pastorates--one in North Carolina (5 years), and now in Michigan. In addition to pastoral ministry, Jim has been actively teaching pastoral theology and biblical counseling on both the undergraduate and graduate levels in several institutions since 2000. Jim is a certified counselor for both the Association of Certified Biblical Counselors as well as the Association of Biblical Counselors.
His hobbies include pocket knives (especially Buck and Benchmade Knives), reading, outdoors, fishing, and shooting. And his favorite teams all have the first name of Detroit.
Associate Pastor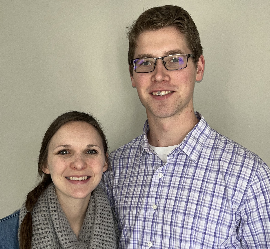 Michael Sciranko
AA, BS
Pastor Michael began his ministry at Calvary in December of 2022. He and his wife Madi both grew up in Iowa, and have been married since 2018. Prior to coming to Ypsilanti, Michael completed a 12-month internship at lowa Regular Baptist Camp (2018-19) as well as a 14-month pastoral internship at Ankeny Baptist Church (2021-22). He holds an A.A. in Business Administration from lowa Western Community College as well as a B.S. in Biblical Studies with an emphasis in Exposition from Faith Baptist Bible College.
He enjoys riding his bike, running, reading, the outdoors, hospitality, and all things family.
Church Secretaries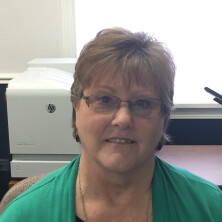 Carolyn White
BS, MA
Carolyn joined Calvary's secretarial staff in 2017. She works closely with Pastor Jim and the Calvary Business Manager Dave Krause.
She was born in Detroit, Michigan and grew up in the then small town of Utica before moving to Romeo as a high school student. Living on a small farm in Romeo enabled her to enjoy her passion of horses and taught her many life lessons while raising animals. After only a few of years in Romeo, she left to attend college at Grand Rapids Baptist College for three years before she transferred to Eastern Michigan University to pursue her degree in education. It was during her years at EMU that she began attending Calvary Baptist Church, and that began her long-time relationship with the church and its people.
Carolyn's ministry at the church began in 1975 when she was hired to teach fourth grade at Calvary Christian Academy. Through the years, she taught a variety of grades and subjects – everything from fourth grade to seniors in high school. She learned how to put a yearbook together, to coach volleyball, cheerleading, and girls' basketball, to sponsor the Honor Society, and to be a high school class sponsor. When the doors of Calvary Christian Academy closed in 2015, she moved on to new endeavors which now include working as an enrollment secretary for School Financial Solutions in Brighton and South Redford, and spending two days a week in the Calvary Baptist Church office. When she is not sitting at the computer doing her two part-time jobs, she enjoys antiquing, gardening, reading, and doing puzzles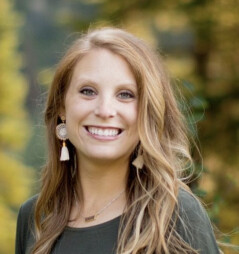 Alicia Smiley
BA, MA

Alicia joined Calvary's secretarial staff in 2023. She grew up in Virginia Beach, VA, and earned her BA in Writing and MA in English from Bob Jones University. Later, she met her husband Andy while traveling with a music ministry team based in Salt Lake City, UT. She and Andy were married in 2019 and now have one child.

Her hobbies include running, reading, camping, and coffee.
Deacons
Dave Dietz, Deacon Chairman
Kerry Zellner
Mark Meredith
Rick Getchell
Andy Martin
Keith Shock
Ben Cantrell
David Jesse
Micah Hibdon